G4[TD]
G4[TD] is a fully upgraded version of the G4 Visible Light Facial Recognition Terminal using intelligent engineering facial recognition algorithms and the latest computer vision technology. It supports speedy facial recognition with large capacity and other authentication methods, including identification with fingerprint, card, and password. G4[TD] also enhances security performance in all aspects.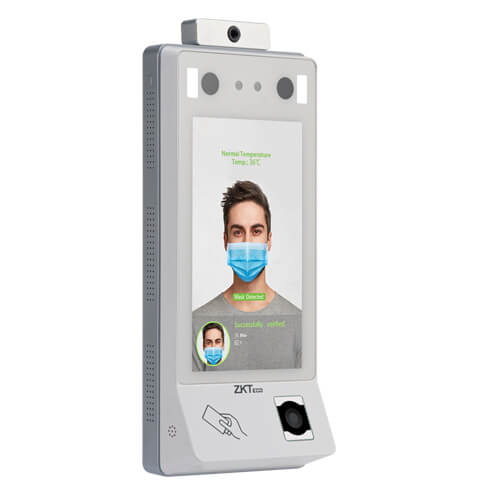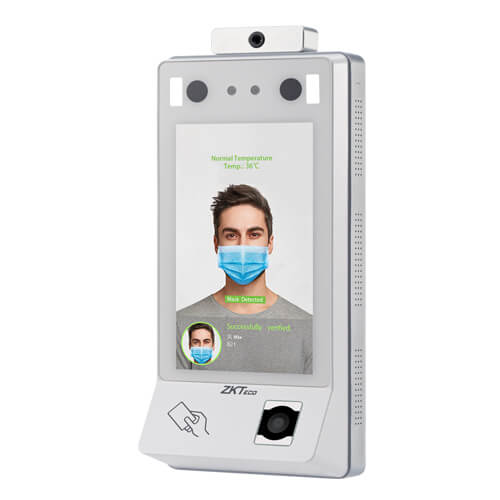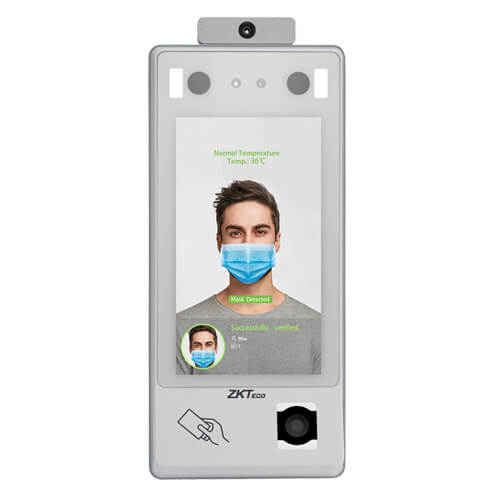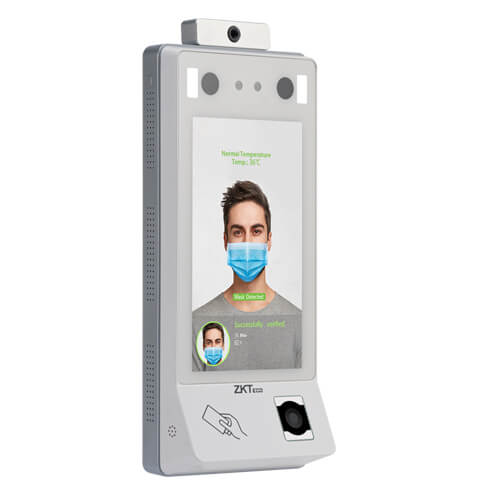 ---
Product Features
Preventative Measures
Mask detection / Body temperature detection
Temperature Measurement Distance
30 ~ 50cm (1 ~ 1.64ft)
Temperature Measurement Accuracy
±0.3°C (±0.56°F)
Temperature Measurement Range
34 ~ 45°C (93.2 ~ 113°F)
Facial verification for masked individuals will increase FAR.
The temperature measurement data is for reference only, and not for any medical purpose.
G4[TD] is not suitable for intense light and high-temperature environments.
It is advised to use the product indoor without wind.
Technical Specifications
Capacity
User
10,000
Face
10,000
Fingerprint
10,000
ID Card
10,000
Transaction
100,000
Communication
TCP/IP / USB Host / Wiegand Input / Wiegand Output / Bluetooth, WIFI
Access Control Interface
Lock Relay Output / Exit Button / Alarm Output / Door Sensor /External Bell
Hardware
High-Performance Android Industrial CPU / 2GB DDR3 RAM / 16GB ROM
QR Code Module (Optional: SilkID Fingerprint Sensor)
7-inch Touch Screen, 1280*800 Pixels / 2MP Binocular Camera
Standard Functions
ID Card / Work Code / Push / DST / Schedule Bell / Automatic Status Switch / Record Query / Photo ID
Special Functions
Enhanced Visible Light Facial Recognition / Live Face Detection / Live Fingerprint Detection / Multiple Biometric Verification Modes
Optional Functions
13.56MHz IC Card / ICASS Card / HID Card
Compatibility
BioTime 8.0 (Only Time & Attendance Firmware) ZKBioSecurity (Only Access Control Firmware)
Additional Info
Algorithms
ZKFace5.6 & ZKFinger 10.0
Working Temperature
0°C ~ 50°C (32°F ~ 122°F)
Optimum Operating Temperature
16°C ~ 32°C (60.8°F ~ 89.6°F)
Working Humidity
<90%
Dimensions
246*120*51 mm (9.69*4.72*2 in)
Facial Recognition Speed
=1s
Facial Recognition Distance
0.5m ~ 3m
Power
DC12V 3A